The Center for Career and Professional Success offers a variety of services specific to the needs of Arts and Sciences students and recent graduates. These services can help you develop and refine your application materials, evaluate the effectiveness of your search strategies, identify sources of potential network contacts, and assist with interview preparation. You are strongly encouraged to utilize each of the services below throughout your career development process.
THE CAREER COACHING PROCESS
Career coaching is a reflective process that involves discussing the career options you are considering and mapping out a plan for achieving your career goals.  Just as obtaining a degree consists of classes that build upon one another until you reach an expected level of proficiency, moving successfully from the classroom to the workplace is also a process that requires you to take action and reflect. The planning process includes discussing how to increase your career readiness competencies. Career Coaches track opportunities and share resources associated with the Center's Career Communities.
Handshake is a great starting point for identifying internships and other types of resume builders to pursue before you graduate, and a Career Coach can assist you along the way with your search. Appointments can be held in person, over the phone, or via Zoom. 
---
Need help? Appointments are scheduled using your Handshake account. Learn to schedule your appointment by following the process outlined in the section below, and when you hear from your coach, indicate your preference for appointment type.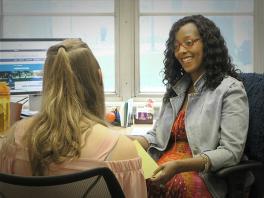 All students interested in meeting with a Career Coach must upload their resume into Handshake 48 hours before their appointment and should bring a hard copy to their appointment as well. You are strongly encouraged to work through the process of developing an approved resume before you schedule an appointment with a Career Coach. Therefore, plan to start the resume approval process at least one week prior to when you want to schedule an appointment. When you begin with an approved resume, more of the appointment time can be devoted to the coaching components listed above. Information about the Career Success resume approval process is found under Resume Review Options.
Prior to meeting a Career Coach you should also have a general sense for the career community/communities that best describes your career interests.  As an Arts and Sciences student, you may choose to join any of our 10 career communities. Each community is based around an industry and will offer you unique content – such as connections to alumni or employers within that industry and events that will prepare you for that next step. Regardless of your major, you can explore or attend a number of events across industry or interest. When you meet with a Career Coach they can provide guidance related to your desired Career Community.
---
NEED HELP? SCHEDULING AN APPOINTMENT WITH YOUR CAREER COACH:
Log into Handshake.
IMPORTANT – These two steps are required to access appointment scheduling in Handshake:

Select and save your Academic Year (Freshman, Junior, etc.) next to your profile picture.
Select your college (Arts and Sciences) under the "Education" section.

Click on the Career Center button in the menu bar and then select Appointments on the following screen.
To request a new appointment, click the Schedule a New Appointment button.
Select the category and type of appointment you are interested in scheduling.
Select a medium (phone call or video call) and a date and time that works for you.

Due to COVID-19, students can meet with a Career Coach over Zoom or the phone. If you need to meet in-person, please email asccareer@osu.edu to provide details about why you need an in-person appointment. We are considering requests for in-person appointments on a case by case basis.

Enter details about the appointment in the What can we help you with? section, then click Request at the bottom of your screen.
You will be taken to the overview of the appointment where you can cancel the appointment or add comments before the appointment.
Make sure that you check your notifications for updates on the status of your appointment.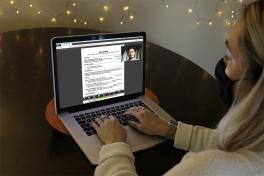 Each Career Coach tracks opportunities and resources associated with particular career communities.  Learn more about career communities here. When you meet with a Career Coach, they can:
Provide you with insights on your identified career interests, including emerging trends
Assist you with identifying specific resume builders that support your career goals
Advise on a recommended timeline for conducting your search in relation to when you want to do a resume builder
Suggest a customized strategy to address all of your professional objectives
Help you access and evaluate information about the career fields within their Career Community
The Career Center offers a variety of tools and resources to help you get started with your search. In addition, you may wish to schedule an appointment with Career Counseling and Support Services to discuss how to efficiently and effectively execute your job search. The service is free and available to alumni for two sessions up to one semester past graduation.
ATTEND A CAREER SUCCESS PROGRAM OR EVENT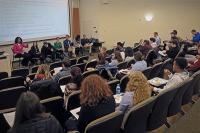 The intent of our signature programs are to offer all students the opportunity to engage in career programs that create connections between students with particular career interests and professionals who have such expertise. Be on the look-out for announcements about our programs throughout the year. Please use Handshake to register for events that look interesting to you so you can stay up to date on any information that changes.
Learn About Our Signature Programs
COVID-19 has necessitated that we adjust how we offer our signature programs. Beginning in academic year 2020-21, our signature programs were offered virtually. Moving forward, Career Success will follow University guidelines for programs and events.
WHAT CAN I DO WITH THIS MAJOR?
Whether you are exploring majors or looking for more information about your chosen field of study, "What Can I Do With This Major?" is a valuable tool designed to help you connect your major and interests to career paths. This resource details the typical industries, career areas, and employers associated with each major and covers strategies aimed at making you a more marketable candidate after graduation. "What Can I Do With This Major?" is a free, virtual resource available to all Ohio State students.