We get it: Showing up at an event or program can feel intimidating...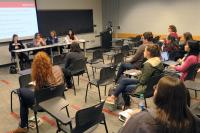 Especially when you don't know what to expect!
But we're confident that the benefits of showing up to connect with your peers, alumni from your department, or employers, vastly outweigh the discomfort. But to help ease that discomfort, we've created a few supports to help you better understand what to expect. While there will be some variations on how things play out, this will give you a basic understanding of what to prepare for.