Meet your career coach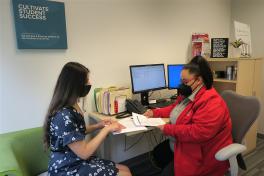 Career coaching is a reflective process that involves discussing the career options you are considering and mapping out a plan for achieving your career goals. Just as obtaining a degree consists of classes that build upon one another until you reach an expected level of proficiency, moving successfully from the classroom to the workplace is also a process that requires you to take action and reflect. The planning process includes discussing how to increase your career readiness competencies. Career Coaches track opportunities and share resources associated with the Center's Career Communities.
Handshake is a great starting point for identifying internships and other types of resume builders to pursue before you graduate, and a Career Coach can assist you along the way with your search. The Career Coaches have limited availability for in-person appointments. In-person appointments can be chosen as your preferred appointment medium for select dates when submitting your request through Handshake. If the in-person appointments do not match your availability, please select a virtual or phone interview. Accommodation requests can be sent to asccareer@osu.edu. If our career coaching appointment times do not match your availability, the appointment times for the Buckeye Careers career coaches are also viewable in Handshake.  The Buckeye Careers staff assist by providing general guidance on writing resumes and cover letters, practicing for interviews, and getting started with their job and internship searches.
View the Career Coaches In-Person Appointment Schedule
Schedule a Virtual or Phone Appointment
---
Need help scheduling an appointment?
Schedule your appointment by following the process below, and when you hear from your coach, indicate your preference for appointment type.
Scheduling an appointment with your Career Coach:
Log into Handshake.
IMPORTANT – These two steps are required to access appointment scheduling in Handshake:

Select and save your Academic Year (Freshman, Junior, etc.) next to your profile picture.
Select your college (Arts and Sciences) under the "Education" section.

Click on the Career Center button in the menu bar and then select Appointments on the following screen.
To request a new appointment, click the Schedule a New Appointment button.
Select the category and type of appointment you are interested in scheduling.
Select a medium (in-person, phone call or video call) and a date and time that works for you.
Enter details about the appointment in the What can we help you with? section, then click Request at the bottom of your screen.
You will be taken to the overview of the appointment where you can cancel the appointment or add comments before the appointment.
Make sure that you check your notifications for updates on the status of your appointment.